Automation in the hospitality industry is often seen as the preserve of the large hotel chains. However, implementing hotel automation solutions can significantly benefit smaller hotel operators too, not just in terms of savings but also improved efficiency and customer service. While the hospitality titans have been quick to embrace automated hotel management systems, smaller and independent hotels are discovering a game-changing secret – they too can harness the power of automation.
Picture this: seamless online check-ins, effortless administrative tasks and better customer interactions. It's not just a privilege of the hospitality "big boys" anymore. It's all available using a modern hotel management system. In this article, we will show you how and why it is beneficial.
Why go automated in your hotel
Taking a step towards hotel automation and investing in hotel automation solutions can seem like a big step for any small hotel or apartment. However, it's recognised that as the power of new tech increases, the price drops in correlation. So, with well-performing systems now affordable and available to smaller independent hotels or chains, it is an investment that is more than worth it.
Saying goodbye to manual, time-consuming tasks and switching to a paperless, technology-driven hotel management software means a small hotel, or an accommodation provider such as an Airbnb operator, can run more efficiently, and creatively with the team and resources they already have.
In the following chapters we'd like to show you through SabeeApp PMS how hotel automation solutions work in real life and how it can really help your hospitality business grow.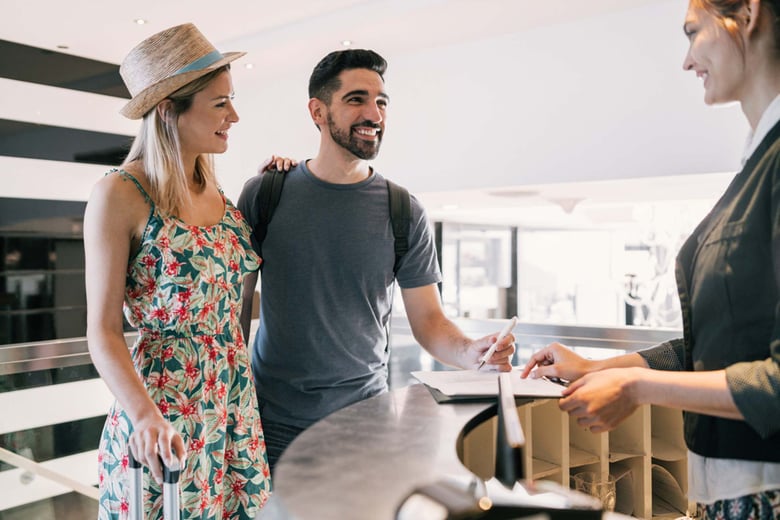 Cloud-based hotel PMS: puts everything at your fingertips
We live in the smart-tech age, and so whatever the size of your hotel, using mobile technology is a natural, instinctive progression. And for smaller operations with a team that's already multi-tasking, the convenience of a 'one-stop-shop' when it comes to the hotel's day-to-day running can make all the difference.
Hotel management software puts a hotel's essential functions right at your fingertips, from managing bookings and room allocation to back-office accounting and reporting. It can even be accessed when off-site, via your smartphone or other devices. This ability to work remotely gives you and your team extra freedom to support other functions of your hotel or spend more quality time helping your guests, creating a personalised guest experience. Besides, cloud based systems ensure that all your data is stored securely for added peace of mind.
Increase efficiency with hotel automation solutions
Small hotels tend to have smaller staff teams that work hard to provide exceptional service for their guests. With a manual system, this means it can be easy for the paperwork and repetitive tasks to take up a disproportionate amount of their time.
Designed to support your staff, hotel management systems like SabeeApp makes sure you have everything under control: from payment solutions to guest experience and restaurant management, you can find an easier and automated way so everyday processes can be smoother and more efficient. For instance, SabeePay makes hotel payments quickly and simply, supports transactions with competitive transaction fees, and of course is compatible with PSD2 and Strong Customer Authentication (SCA) requirements, the new payment directive that makes payment secure.
SabeeApp connects with various restaurant softwares so you can manage both your hotel and restaurant from a user-friendly interface. One of integration partners is PosCloud restaurant software service which provides solutions for hotel restaurants and F&B units, which are easily available to you through SabeeApp: log in to Marketplace as a registered user and select PosCloud.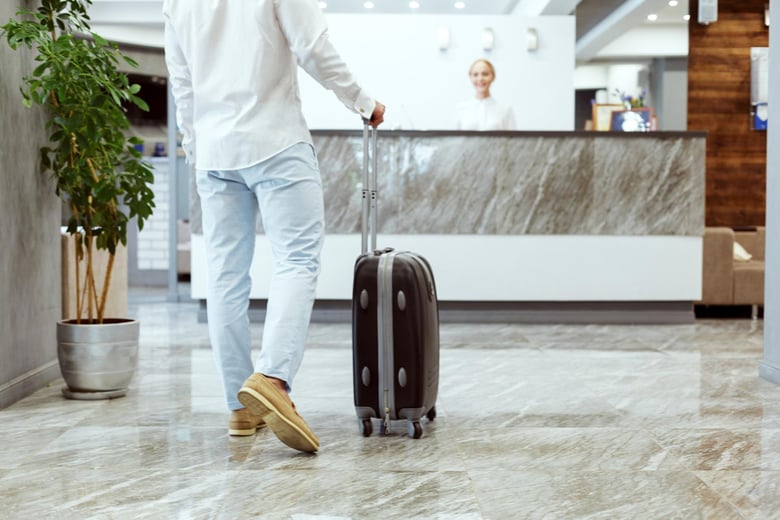 Streamline your front desk operations
In a smaller hotel, space can be at a premium, meaning hoteliers often need to balance the need for a welcoming front desk without overcrowding the lobby. And with some hotels removing the reception desk altogether in favour of a self-check-in kiosk, there is a lot to consider.
Whichever route you decide to take with your hotel reception, an automated service can positively streamline the front desk, while enhancing its efficiency. A hotel software will bring all your guests' information, reservation details, room availability, invoices, housekeeping, and related administration together in one place. SabeeApp's GuestAdvisor app - part of the Smart Solution bundle - also gives you the option to automate the check-in process thanks to the built-in ID scanner, offering your guests the convenience of checking in from the comfort of their home.
Improve the guest experience with hotel technology
As well as a smoother check-in and check-out service, hotel automation solutions work to improve guests' experience of your hotel during their stay and beyond. Secure payments, tools for booking additional services and 24/7 availability are just some of the automated options on offer. SabeeApp PMS also offers your guests the opportunity to provide instant feedback, which is a proactive way to quickly resolve any issues and reduce customer complaints.
A small hotel can increase its revenue by creating guest profiles that provide a much more personalised service. As previously mentioned, GuestAdvisor has many features that can enhance guest experience: tailored communication, personalised support during a guest's stay and targeted offers that enhance their experience and ultimately build greater customer loyalty. Furthermore, GuestAdvisor is multilingual which makes the communication way easier.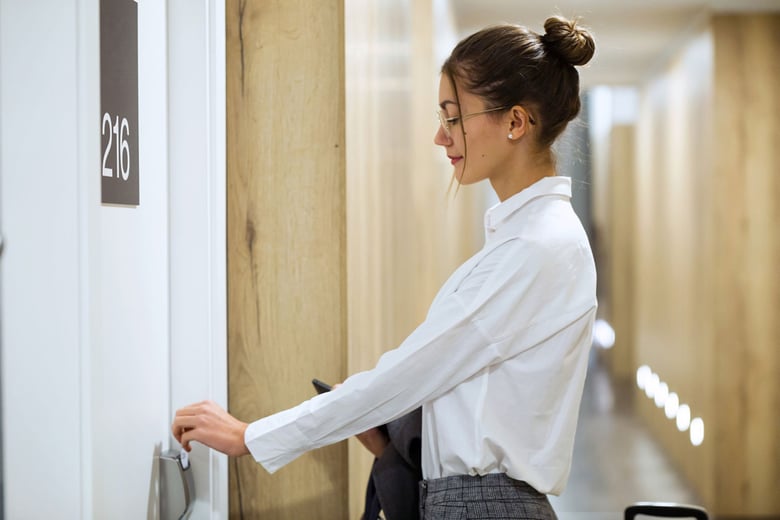 Increase occupancy rate at your hotel
Hotel management systems like SabeeApp that include a Channel Manager can increase occupancy rates as well as take the stress out of managing online bookings by synchronising rate and availability in real time. It also helps prevent over-bookings. Integrating with online travel agencies (OTAs) and booking sites, allows the offer of a seamless service with the latest rates, offers and availability across all your OTAs which gives you more visibility online.
Apart from the Channel Manager, it is beneficial to have an integrated Booking Engine embedded in your hotel's website so guests can book directly. This means you don't have to pay commission to the OTA channels and can have more control over your hotel bookings. SabeeApp's Booking Engine has many features that can help you automate: it shows meal plans, the hotel's rules and regulations, and booking policies that are connected to the reservation. The Booking Engine is also connected to SabeePay, so instant payments are also possible here.
Monitor your hotel's real-time performance
Hotel automation solutions provide you with a wealth of information that you can use to improve the service you offer your guests. Monitoring your hotel's real-time performance via hotel management software will help improve efficiency by identifying which services are most in demand and when you need to allocate more resources. By accurately recording guest data, you will also have all the essential information you need to identify guest preferences and trends. In turn, this can feed into your ongoing marketing and pricing strategy to maximise your bookings year-round.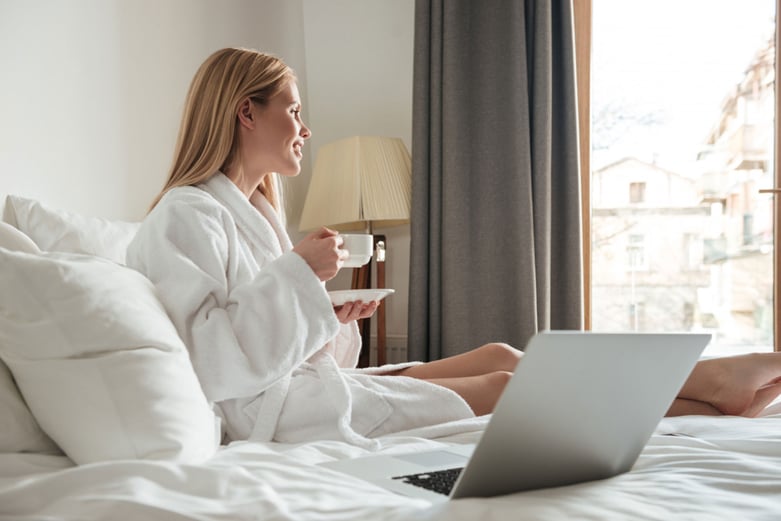 Equips you and your hotel staff for the future
Secure, convenient, and user-friendly, hotel automation is the key to success in an evolving marketplace for small, independent hotels. By installing an automated system, you can have the edge over many of your smaller hotel competitors, ensuring your business is set up to thrive. Ultimately, an automated hotel management system is also about your people. It means your staff team will have the latest innovations and integrated tools to meet and exceed the needs of your guests. And that is another sure-fire way to keep your customers coming back for more.
SabeeApp is an innovative all-in-one hotel management system which means less admin and more revenue for hotel operators and accommodation providers at the same time as happier guests. If you are interested in taking the first step towards hotel automation, don't hesitate to book a free demo!