The 'new normal' for vast numbers of people is that we engage with the world digitally, ordering goods and services through mobile apps and paying for them remotely, and seamlessly. For example, many consumers barely use cash any more, and we have come to expect that suppliers meet our needs quickly and efficiently. 'If we can do it in everyday life with Amazon, Ebay and banks,' runs the argument, 'Then for sure we should be able to do it when engaging across every sector.' This technology-led demand is making rapid inroads into the hospitality industry, so let's look at some significant trends that are changing the way modern hotels do business, or need to get up to speed with.


Hotels are becoming smart
Consumers are already using many touchless and remote technologies as a matter of course. Governments have also launched massive programmes of digitalisation of state services for taxation, health, social security, and many other citizen touchpoints. Much of the very rapid expansion of these services came through the necessities of the pandemic, and there is now no going back on the benefits. Digitalisation provides efficiencies, cost savings, and ease of use, and the trickle down effects have entered the hospitality industry with the advent of Smart hotels. So what constitutes a Smart hotel?


Digitalisation at every point of the guest journey
Smart hotels enable the entire guest journey to be achieved in the digital realm, sometimes without any direct contact with hotel staff. A potential guest can browse a hotel website, perhaps assisted by a chatbot, make their choice and register, receive automated confirmations and other messaging from the hotel, then turn up on the day and enjoy self check in and keyless entry to their room.
In-stay digital technology allows continued messaging and feedback between hotel and guest, and the check out and payment procedure at the end of stay is similarly seamless. This doesn't mean that hotel staff are absent or not needed! Instead they are more effectively employed in people-to-people activities and enhancing the guest experience, rather than being tied up with routine chores (which in any case work more smoothly and reliably when they are automated). These trends are real, and to be aware of them, and start implementing them, gives your hotel a clear competitive advantage.


Hotel guests are different now
Before we look more closely at some smart solutions now available to hoteliers, it's worth noting how the demographics of hotel guests have changed in recent times. An emerging trend is for Digital Nomads to use hotels to work from as they move around the world, choosing to stay in attractive locations that suit their lifestyle. Digital Nomads work fully online, and often across time zones, so they need a number of non-negotiable facilities from the places that they stay. The definition of this 'tribe' is that they are mainly younger professionals who do not need to be tied to a particular location, and therefore go to places that best suit their needs. Many countries now recognise the financial clout of Digital Nomads by offering temporary Digital Nomad Visas to attract workers for defined periods. Digital Nomads require specific features from the hotels they stay in, usually for weeks or months at a time:
Always-on free broadband connectivity capable of streaming and up/downloading large data packets, and enabling conferencing apps such as Teams and Zoom.
Self-service refreshment facilities: If a Digital Nomad is working to different time zones and schedules, then they need beverages and snacks outside of regular hotel hours.
A sense of community is appreciated by many Digital Nomads, so self-service snacking should be available in comfortable shared areas. This promotes a feeling of belonging, and provides social opportunities to people who are frequently on the move.
With Digital Nomads being - in effect - always 'away from home' (in fact many do not have a permanent apartment or base), health and wellness plays a big part in their choice of hotels. A hotel which offers even basic health facilities will win out over one that doesn't. And a hotel which offers excellent gym and wellness really scores with Digital Nomads.
Like Digital Nomads, Bleisure travellers - who combine Business and Leisure - have similar needs, except they generally do have a base, and are away from it for shorter periods. They are more likely to be employed than the predominantly self-employed profile of the Digital Nomads, but they too expect their hotel to be digitally smart.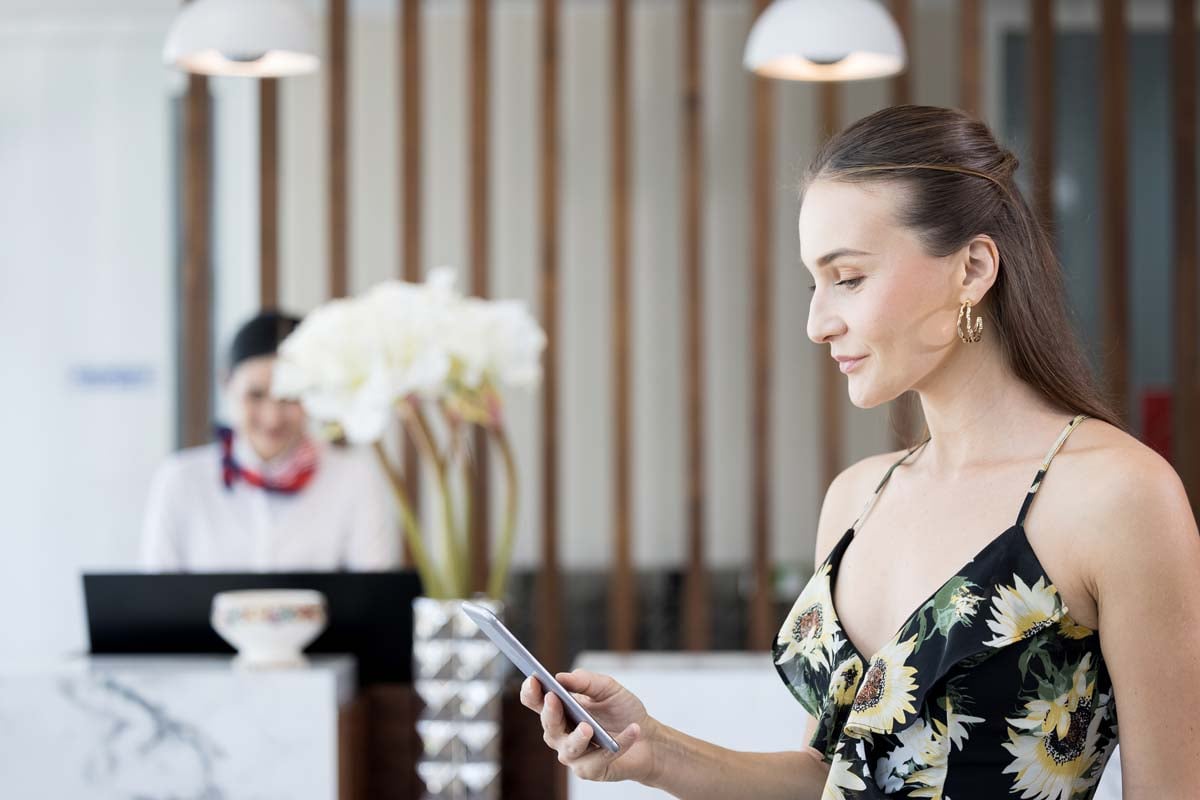 Guests are more conscious of sustainability issues
Sustainability is a hot topic at every level of society and business, and most guests now query and pay attention to a hotel's 'green' credentials. For hotels, being green can be a significant decider in why guests choose them, as the age of conspicuous consumption fades into history. A 2023 survey revealed that 90% of travellers have a preference to stay in a sustainable hotel, and 34% are willing to pay a little more for that. Even the grandest of Grand Hotels now pay close attention to eco initiatives.
While sustainability is attractive to guests, it's a hugely important trend for hotels too, not least because good eco practices are more efficient and cost effective. These can include:
Re-lamping with longer-lasting, less power-hungry LED lighting.
Re-equipping with more efficient heating and cooling systems.
Reducing energy and water consumption, and encouraging guests to play their part in this.
Installing smart plugs which monitor electricity usage and can automatically turn off when a device is not in use (for example a TV, which even in standby mode consumes electricity).
Using smart technology which allows guests to control settings in their rooms from their mobile phone, including heating and air-conditioning. Guests are typically absent from their rooms for 70% of their stay, so it makes sense to enable them to control temperature and other factors individually.


Guests have ever rising expectations
Put all together, current trends in the hospitality industry are being changed by the profiles of these newer types of hotel guests, with an overall rise in the desire for personalisation. No guest wants to feel like they are a 'cookie-cutter' copy of every previous guest, and they genuinely have differing needs and wants. Establishing a dialogue with a guest has never been easier for hotels however, thanks to the richness of data which is available through automated Property Management Systems, and other add-on software solutions.
If it seems initially strange that 'automation = personalisation', think about this: From the very first touchpoint with the guest, as they query the hotel's website, information is being collected about them - their name, contact number, and possibly other details such as dietary or allergy issues. While a member of staff might only record a few such details, a smoothly functioning hotel PMS records everything. What feels like a very personalised acknowledgement of a booking can then be sent out, automatically. Some messaging systems such as the Bonomi app communicate directly in the guest's favoured channel, such as WhatsApp, Viber, or Instagram.
Throughout the entire guest journey it's therefore possible to engage with guests, supplying them with personalised responses and suggestions that deepen the relationship with the hotel, and can increase loyalty, recommendations, and re-bookings.
So what are the technology trends in the hospitality industry making this degree of personalisation possible?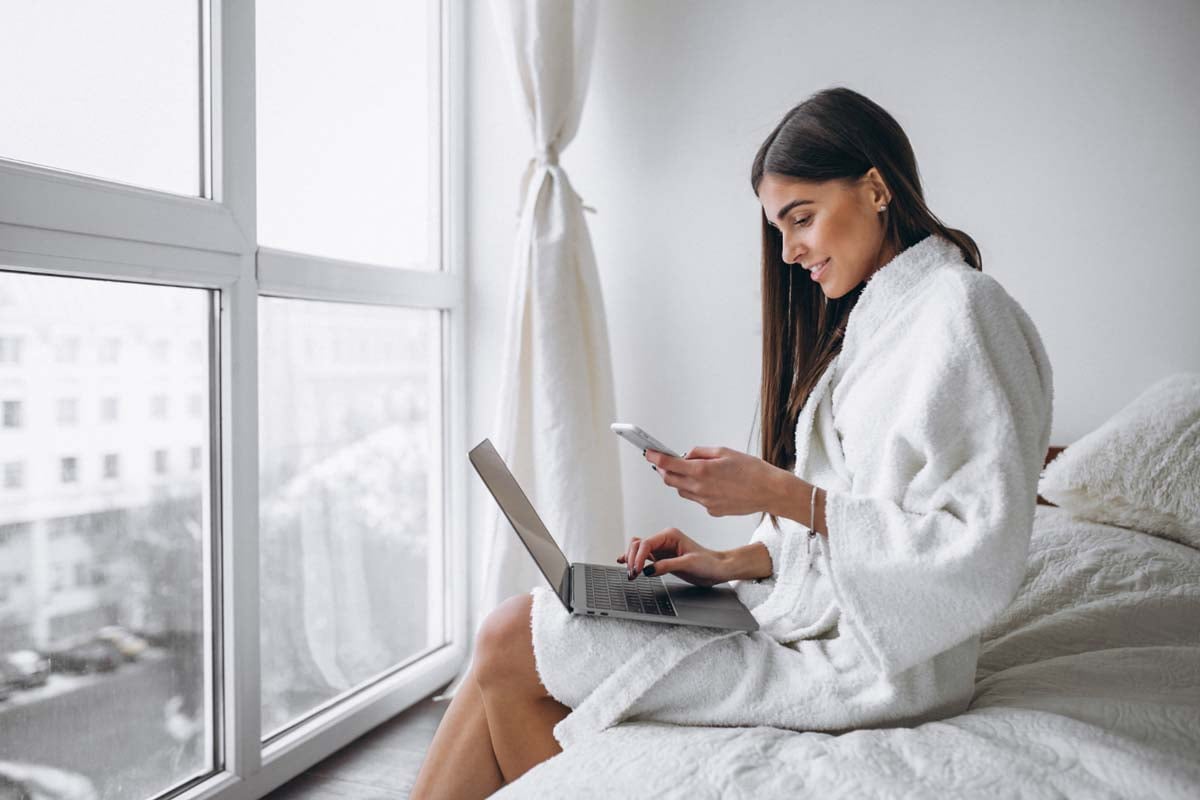 Digital with everything for an enhanced guest experience
Whatever digital strategies a hotel adopts, they have to work seamlessly in order to maximise guest experience. This starts in many cases with a guest querying the hotel website, which must be smooth, full of up to date information and offers, with attractive images, strong graphics, and compelling text. Let's see what technical improvements you can adopt to take your hotel to the next level.


1. Chatbots help guests make decisions
Guests like to research hotels at a time of their own choosing, which is not always during normal hotel business hours. A friendly chatbot - which usually appears on the website as a pop-up 'widget' - will answer a variety of FAQs, to the point that it can help a guest make the decision about booking. Recently the repertoire of chatbots has expanded greatly with the increasing use of Artificial Intelligence, including generative AI with ChatGPT. This results in more conversational messaging, with more scope on the part of the bot to suggest further features and offers, and to harvest additional information from the potential guest. Chatbot use is on the increase for hotels, particularly now that AI models are available. At present most hotels use text-based systems where the guest and bot conduct a written dialogue, however expect to see more sophisticated systems that recognise and respond to speech.
Overall, chatbots also have the great advantage that they can 'understand' a wide variety of languages, so guests can communicate in their native language. This avoids misinterpretation by hotel staff, and chatbots save a lot of staff time in answering simple, repetitive queries.


2. Enriched messaging at every guest touchpoint
We have already mentioned how guest communications can be personalised, and this is a technology trend which continues at every touchpoint. Automated confirmation, welcome and check in messages can be sent, and once in-stay guests can be alerted to special events and offers. Even after their stay the dialogue can automatically continue, with - for example - a request to review the stay on OTA sites, the hotel's own website, or through social media. Good reviews are a huge factor in persuading other potential guests to take a look at a hotel's website, and then be engaged by it.


3. Contactless and touchless are increasingly must-haves
In all walks of life we now expect to self-serve, usually using our mobile, laptop or other device. This means check in (and check out) being possible in contactless form, where in most cases it's not even necessary for front desk staff to input guest details into the system - because it's all been entered by the guest before arrival. This will include payment details, and the ability to settle the final billing contactlessly. Guests now expect this seamless functioning, and the hotel which cannot offer it is getting seriously behind the curve. The implications of contactless check in means that guests are freer to arrive when they choose to, and if the solution includes keyless access to rooms (and it should), then this further frees up staff, and reduces friction for guests at typically busy arrival and departure times. The less friction any guest experiences, the happier they are, and the more likely they are to recommend a hotel to friends, family and colleagues.


4. VR and AR are coming - perhaps faster than you think
Chatbots and highly automated Property Management Systems are already with us, and Virtual Reality and Augmented Reality are coming up in the fast lane. At present only large hotel chains are deploying these technologies, but just as videos on hotel websites were once quite rare, VR and AR will rapidly become 'the new normal'. Why? - Because they are effective marketing tools.
Virtual Reality allows guests to have the experience of looking around a hotel before booking (or even after booking to familiarise themselves with the hotel layout and facilities). As such it's a powerful way of enabling guests to appreciate the look and 'feel' of the hotel, and can help in persuading a guest to book, or even upgrade.
Augmented Reality is used in-stay to inform - and sometimes entertain - with news of special offers or events. This information can be fed to guests' devices, and is typically localised, so when a guest is near the restaurant - for example - they can be informed of a chef's special, or 'catch of the day'. Other offers such as health and spa treatments can be sent to guests with AR, encouraging upselling.


5. Robots are at work in hotels right now
Yes, chatbots and apps are 'robots', but an increasing technology trend in the hospitality industry is in the use of actual robot mechanical devices. Many people are familiar with robot home vacuum cleaners, and it makes sense to utilise the levels of hygiene available with robot devices, which can be precisely programmed to fit in with the schedules of guests and hotel staff. Robots work tirelessly and efficiently, and don't even necessarily replace human cleaners. It just means that the people can concentrate on doing other things better and more efficiently. Robots in hotels will be seen more and more, initially in cleaning and for room service. And remember, in the hospitality industry, freeing up staff always results in them having more time to engage meaningfully with guests!


The future of hospitality is smart, smarter, smartest
The worldwide pandemic helped accelerate moves towards ever more automated solutions for the hospitality industry, and these have been proven to be of huge benefit to hotels and guests alike. There is no going back to more traditional methods of working, and who would even want to? Guests are changing too, and expect a more personalised and memorable experience. In meeting these needs, hotels can save costs and promote a better guest journey, therefore attracting repeat bookings and recommendations. Traditional hotels are getting smart, smart hotels are getting smarter, and the day may not be far off when a new category of 'Smartest hotel' emerges.


We help you understand trends in the hospitality industry
We are SabeeApp, providers of a cloud-based Property Management System exclusively designed for the hospitality industry, and we have over ten years experience working with modern hoteliers across the world. We really understand the tech trends mentioned here, but our deep knowledge of the market also means that we are always watching out for 'the next thing', and talking to all our client hotels and partners about what's coming down the road. We have our finger on the pulse of the hospitality industry, and are always keen to help create and maintain guest satisfaction. As such, we're ready and willing to talk with you about your hotel's specific needs, so please do get in touch and find out how we can help you gain a deeper knowledge of current trends in the hospitality industry.