In our previous article, we explained why mobile solutions in hospitality are important. We introduced some of the solutions that can help to make processes smoother for both the hotel staff and your guests on arrival and thereafter throughout their stay.
In this week's post, we're focusing on the other end of the guest journey, which are payments. We'll introduce the latest mobile payment options for hotels, explain how they work and what are the benefits that you and your guests can gain from it.
What are mobile payments and how do they work in hotels?
Mobile payments are regulated payment transactions that are performed by using a portable device such as a smartphone or smartwatch. At a hotel, for example, instead of a physical credit card or cash, the guests can use a mobile device when paying for a product or service.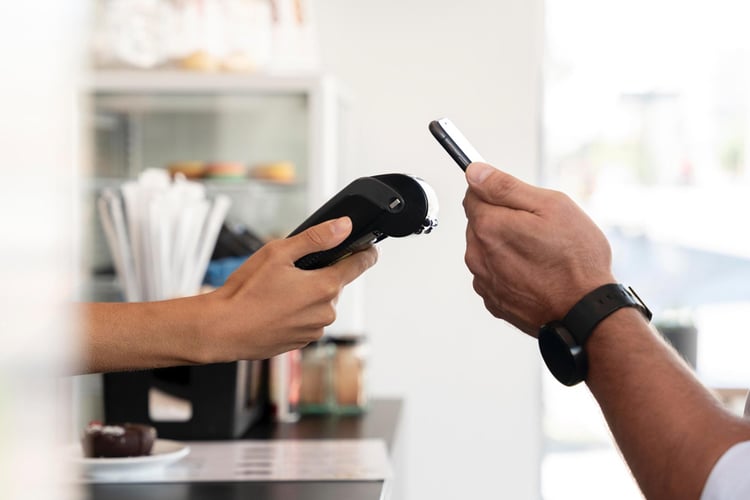 What are the most common mobile payment options?
You've probably heard about Apple Pay and Google Pay. These are the most popular mobile wallets, also known as virtual or digital wallets. They are based on NFC (Near Field Communication), which is a short-range wireless data transmission technology. This allows us to exchange data from a few inches away, for example when paying. Most smartphones and other smart devices today have an NFC chip, so they can be easily converted to a digital wallet at any time.
Imagine online gateways as a kind of contact between sellers and buyers. Customers, or in your case guests, can sign in to the service through their browser or email account and then add their credit card information manually or pay with their favorite wallet, such as Apple Pay. Online getaways provide a great way for the guests to pay online conveniently, securely and contactlessly in your hotel.
QR (Quick Response) code payment
A matrix barcode which contains optical information that can be read by compatible devices. The QR code system is a great way to replace entering the credit card information manually, to minimize errors and to make payment transactions more secure. You can simply generate the code, which your guest can easily scan even with an older type of phone that is not NFC-compatible. The QR code payment system can be connected to the mobile wallet mentioned above, and as soon as the guest's phone scans the QR code, the purchase amount will be automatically charged.
Mobile POS payment can be a great solution if your hotel has several points of sale, such as a reception, restaurant, bar etc. The implementation of the mPOS payment system does not require a large investment of assets, it is enough to have an NFC-compatible smartphone or tablet that can be converted into a POS (Point Of Sale) system by using the appropriate software.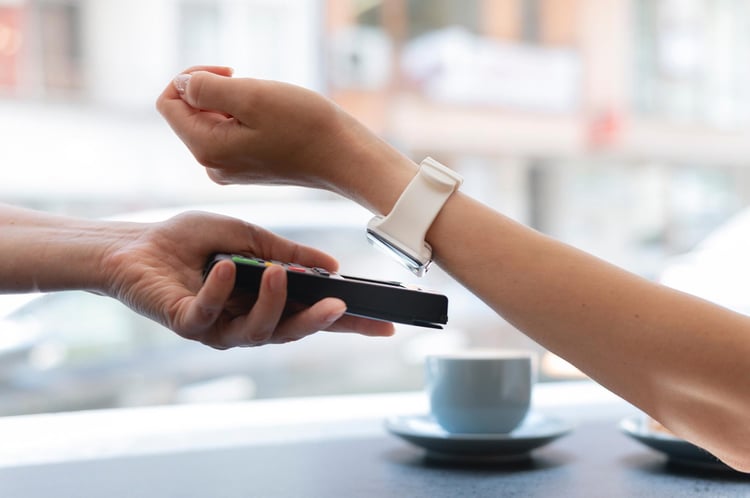 The 5 biggest benefits of mobile payments in the hotel industry
1. Seamless and faster payment
Nowadays, people don't carry cash with them, especially not large amounts of money. On the other hand, almost everyone has one or more smartphones in their pockets. The number of users is growing steadily, with nearly 7 billion smartphones in use worldwide today. The combination of these two trends makes the implementation of mobile payment solutions in your hotel nearly inevitable.
Mobile contactless payment solutions are not only more convenient, but also much faster than traditional payment solutions. Your guests don't have to look for an ATM or dig in their suitcase looking for their wallets. Instead, they can authenticate the online payment transaction quickly and seamlessly with their smartphone, which is always at hand.
2. More secure transactions
It's time to leave the traditional PIN codes behind. They can be forgotten, guessed, or lost. Paying with smart devices, on the other hand, is completely secure, as it requires fingerprint or facial recognition for authentication. This type of biometric authentication can't get lost, it cannot be stolen, or copied.
3. High hygiene standards
As a result of the COVID-19 epidemic, guests value high hygiene standards and contactless solutions more than ever before. Mobile payment helps with that. It reduces the number of possible contact points, as reception colleagues do not have to handle physical credit cards or cash. With contactless mobile payment solutions, you can provide your guests more comfort when checking in and out.
4. New technology = potential competitive advantage
Hotels that react quickly and keep up with the latest trends can increase the interest and loyalty of valuable guests who are willing to pay a higher price for new technologies that make their lives easier.
5. Providing bank payments to unbankers
Prior to the mobile payment options induced by the smartphone revolution, a large portion of the world's population was not a customer of any financial organization. Modern, online payment solutions are changing the way we think about banking and slowly replacing the traditional banking system. If your hotel is ready to accept these new payment methods, you can target a much wider range of guests who are ready to travel.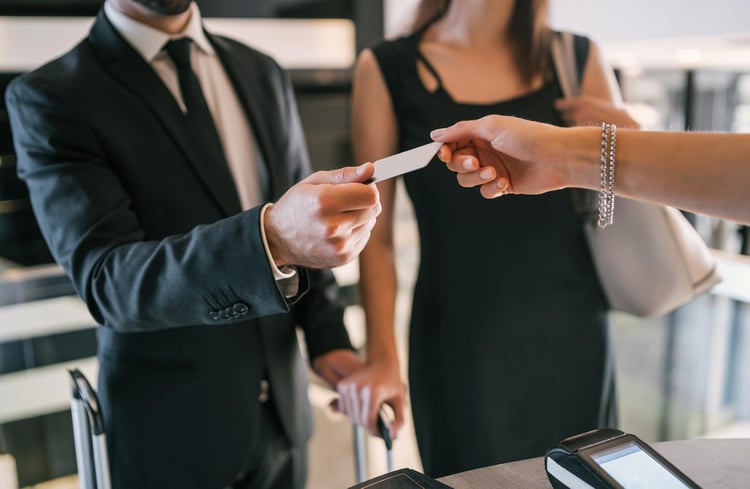 How can your hotel benefit from mobile payments?
The first and foremost benefit is that with mobile payment solutions, you can make life easier for your guests and your colleagues at the front desk. The former can forget about the annoying queuing in front of the reception and the latter is relieved of a series of administrative burdens. Your guests can check out online or through our Virtual Concierge and make a payment through their mobile wallet or SabeePay.
There may not even be a cost to you for implementing online payments. If your hotel already has basic payment devices such as an NFC-enabled POS terminal or mPOS system, you don't need to buy anything else. This is because wallets can be used to pay on these devices in the same way as physical credit cards. Your guests can pay easily with secure biometric authentication using their smartphone or other portable smart device.
By automating payment solutions
Manual credit card validation and payment at the front desk is a thing of the past. You can save up to several hours by using automatic payment and card validation solutions like SabeePay. Automated credit card validation guarantees real bookings, so your free capacity won't be closed out unnecessarily on your sales channels. Besides saving time, you can keep errors to a minimum and manage your bookings seamlessly with these solutions.
With the help of automated payment solutions, you can also exclude the loss due to no show, as you can charge the cancellation fee on your guest's credit card directly from the PMS with one click.
Final words
Mobile payment solutions are now a part of our everyday lives, so their usage in hotels is inevitable. At SabeeApp, one of our main goals is to keep your hotel business up-to-date with technology. That's why we work hard on our own payment solution called SabeePay. SabeePay is a complex payment system for hotels that will be launched in the first quarter of 2022.