The hotel industry is an ever-evolving industry, as the economic situation greatly influences the success of a season. In this fast-paced world, hotels aren't just keeping up with the latest trends and changing demands – they need to become masters of adaptation.
One of the adaptation techniques is the automation of hotel processes. This means letting modern tech solutions take the wheel to smooth out hotel operations, making things better for guests and running things more efficiently. Hotel automation enables routine tasks to be performed automatically. Automating online booking and check-in processes, for example, reduces the potential for human error and improves the speed and accuracy of these processes.
Which processes can be automated in a hotel?
Booking processes
Invoicing
Check-in and check-out
Ordering extra services
Communication
Collecting feedback
Optimising and automating these processes is not only a business advantage, but will most likely increase guest satisfaction as well. By cutting out the admin hassles, both the staff and guests get to focus on what really matters: connecting and having a great experience.
Hungary's hospitality scene is catching on big time. There are more and more "smart" hotels that are implementing automated solutions in order to have smoother operation and provide a better guest experience. This is a classic win-win situation, as both the hotelier and the guest benefit.
Now, let's turn the spotlight on some of Hungary's most innovative hotels.
Smart Hotel (Körösladány)
The Smart Hotel in Körösladány awaits its visitors in an innovative and modern environment. The hotel is all about innovation, making sure guests have a cosy and hassle-free stay. Smart Hotel offers 7 cosy rooms that are ready to make your stay a blast, no matter the season. Each room strikes the perfect balance between comfort and modern flair, and of course, they've all got their own bathrooms – no sharing required.
There is a restaurant on the premises, which is perfectly suitable for corporate and family events and special occasions, up to 30 people. Plus, they've got a charming wine cellar that's perfect for intimate gatherings of around 15 people.
But here's what really sets the Smart Hotel apart: it operates as the first smart hotel in the area. You can check in and out online, all contactless and super slick, and you can use your phone to open and close any door in the hotel, thanks to the Assa Abloy smart lock integration. What's more, you can also take a virtual walk, getting to know the appearance of the rooms, as well as the hotel's wine cellar.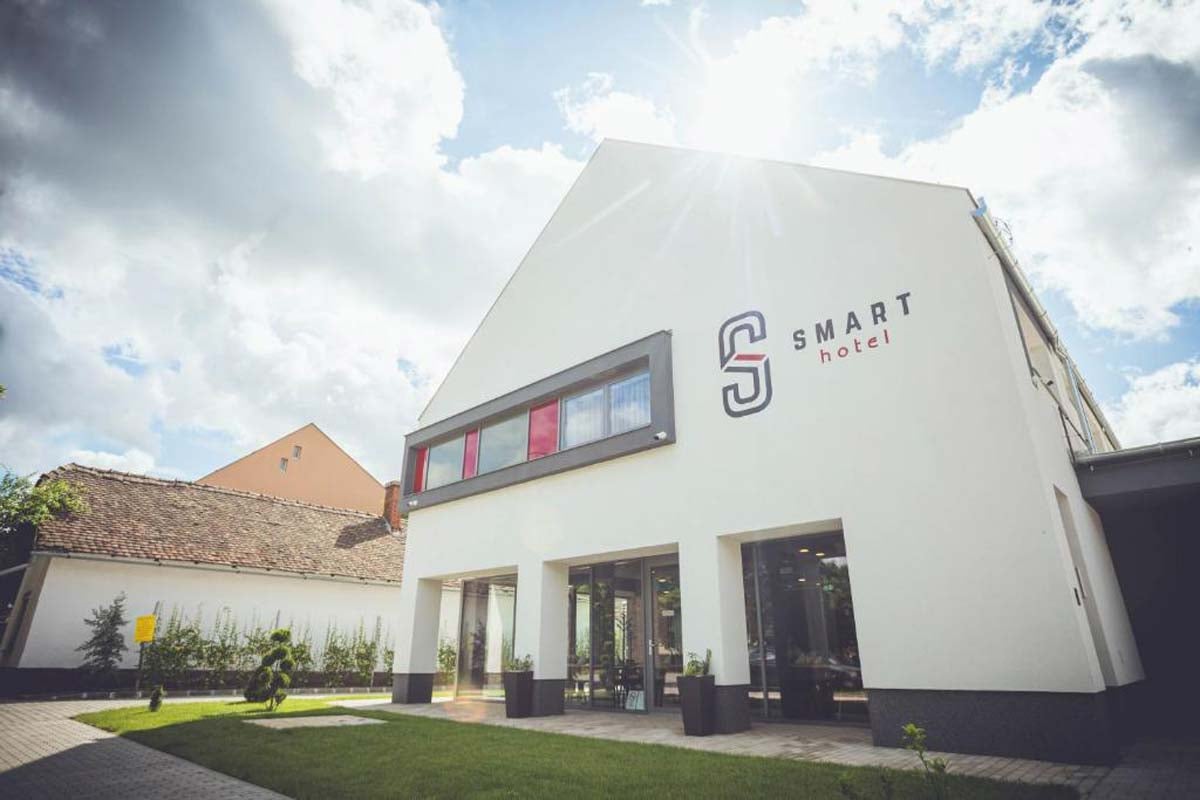 Noir Hotel
The Noir Boutique Hotel is located in the heart of Szeged, and awaits its guests with carefully furnished, comfortable rooms, and innovative solutions that make the guest journey a bliss.
The Noir Hotel is located in a quiet, easily accessible location, within walking distance of Szeged's attractions. It is a perfect choice for families who come to the city to relax, but due to its location and comfort, it is also an ideal location for business trips as well.
What sets Noir Hotel apart from the traditional ones? It is designed to give guests the ability to control everything from their own phones from the booking process through check in and out. No more phone calls or emails to book a room: it will allow your staff to work more efficiently and save time on administration - thanks to innovative solutions like the Noir application.
Comfort, style, and innovation – it is all at your fingertips at Noir Hotel.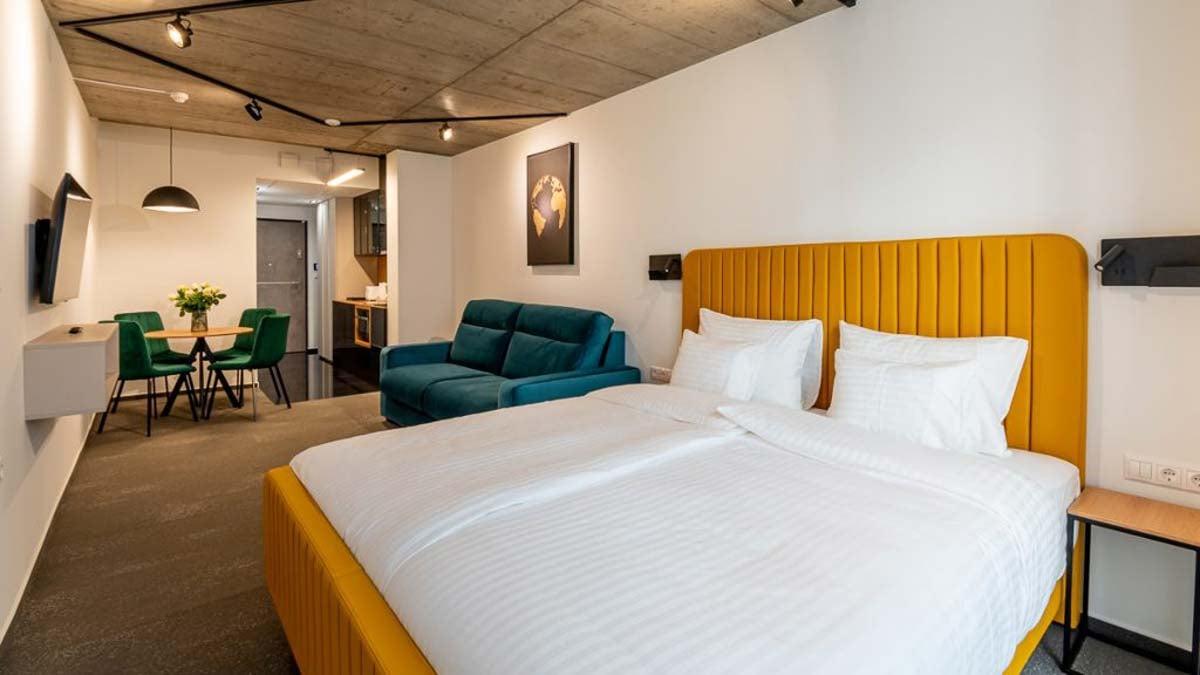 Smart Hotel (Budapest)
The Smart Hotel in Budapest welcomes its visitors with a very special experience and 6 excellently equipped rooms. Thanks to Loxone's smart system, the rooms are equipped with smart control. Imagine a stay where everything is seamless, from checking in to waving goodbye. Even before guests arrive, their chosen room gets the memo, freshening up the air and setting that perfect cosy temperature.
There is a restaurant, a wine terrace and a showroom on the premises of the hotel, offering a unique and exclusive experience for visitors. Smart Hotel also has a well-equipped wellness centre with a Finnish sauna, steam cabin and tepidarium, allowing complete relaxation for hotel guests.
Besides being an innovative hotel, they put a lot of effort in sustainability. They aim to use and sell products offered by local producers and service providers.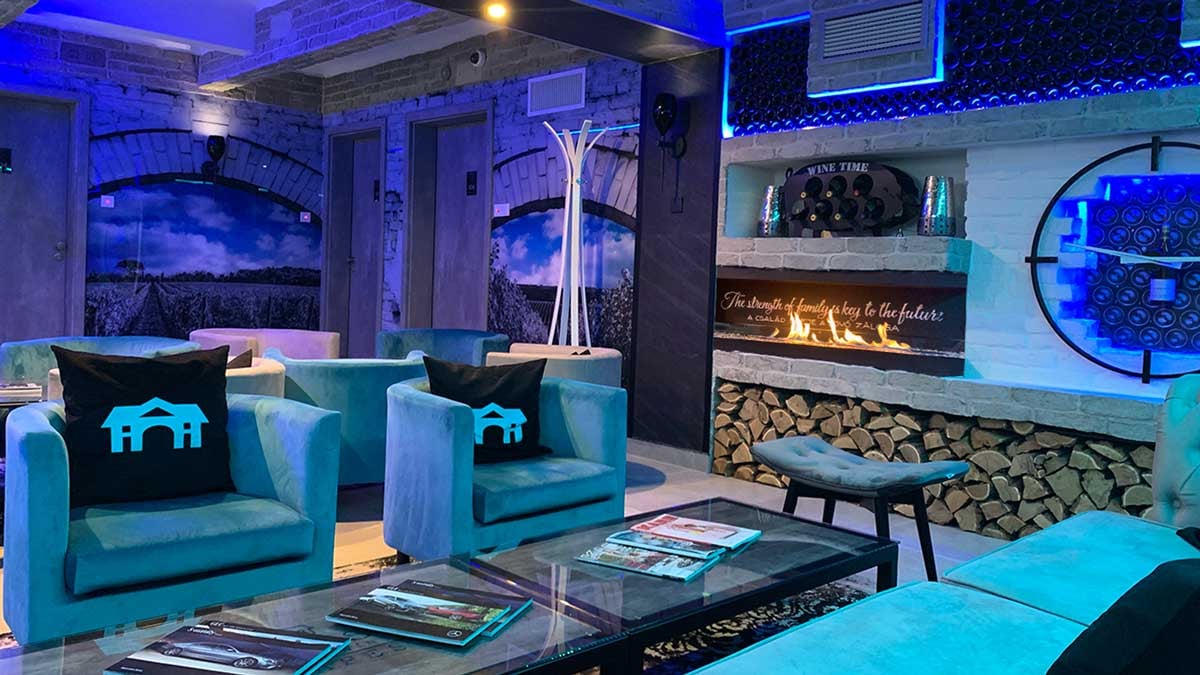 Villa Lilith Smart
Villa Lilith Smart Hotel is located right on the Hungarian-Austrian border, only 6 km from Sopron. With 10 apartments to its name, this place is all about freedom and tech-driven solutions and smart technologies. The villa operates without staff, with smart locks and a non-stop 0-24 online reception, which is available in three languages ​​(Hungarian, German, English), so the guests are not left alone if there's any trouble.
The villa offers undisturbed and free relaxation for the guests: the breakfast prepared in the basket, and the wellness department is always ready to use. It's also a haven for those who crave an active getaway, with a wide array of program options in the area.
So, if you're on the lookout for a stay that's all about relaxation and enjoying a tech-infused experience, Villa Lilith Smart Hotel is where it's at.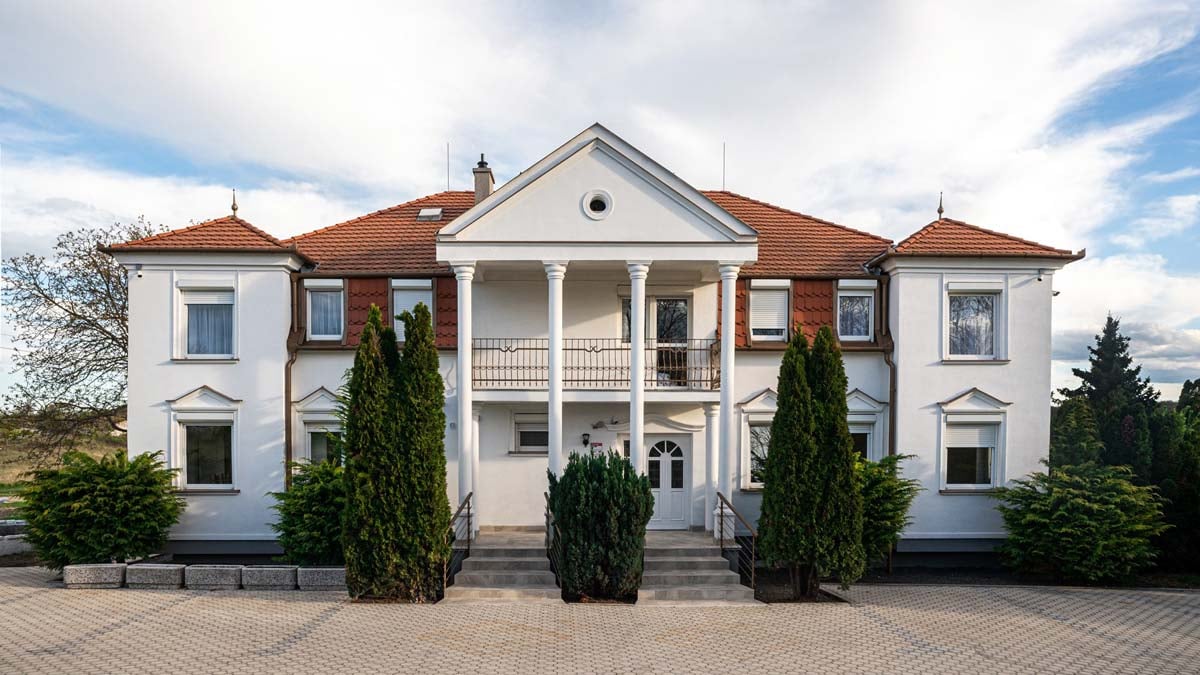 KViHotel
The KViHotel is a truly special smart hotel located in the heart of Budapest. With 40 brand new rooms that are all about modern style and comfort, this place is a true standout. From booking to check-in to check-out, the guest can take care of everything, only using an application.
KViHotel is a great example of how to use hotel automation to make hotel processes efficient while providing an outstanding guest experience. Let us tell you how. The moment your room is all set, a friendly notification from the app gives you the green light for a smooth contactless check-in. And here's the cool part – you can even keep an eye on your room's cleanliness and temperature, and you can easily communicate with the staff if needed - all from that very same app.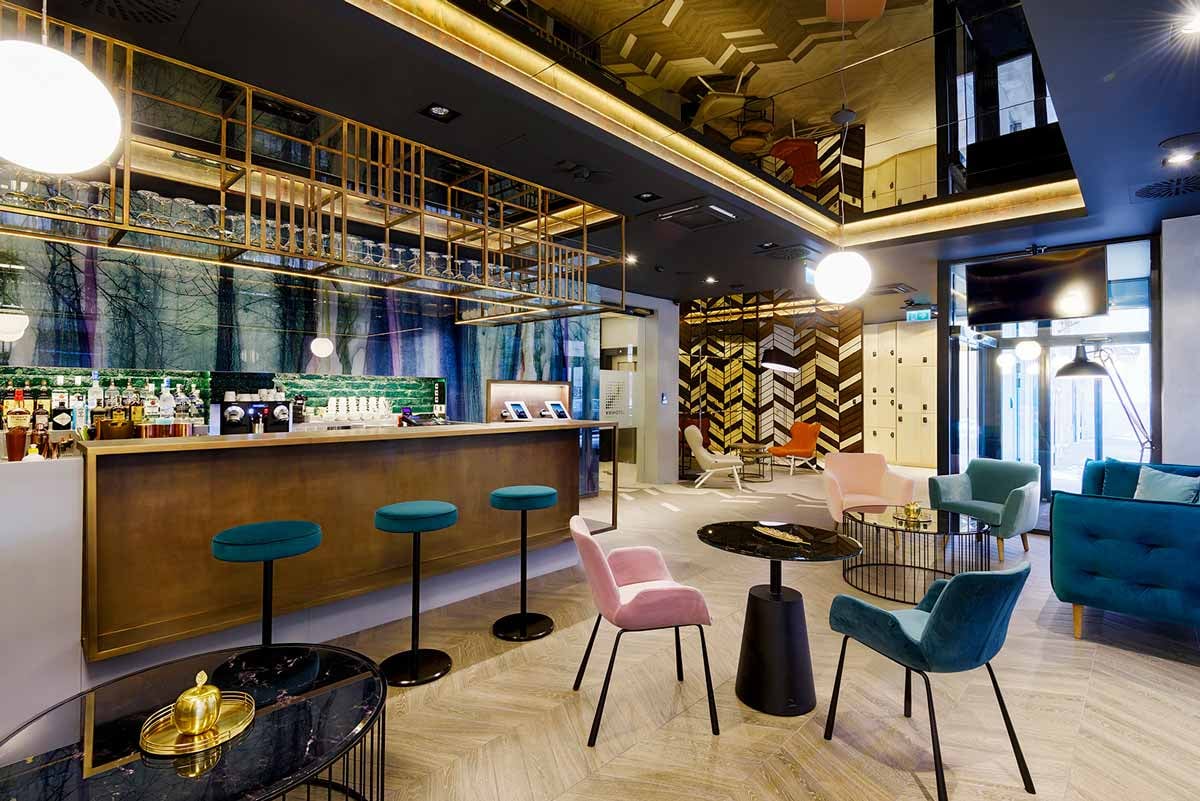 Up Hotel
The Up Hotel is located in the 6th district of Budapest and has 156 good-looking rooms. In addition to implementing the latest technological solutions, they strive to maintain people-centeredness, because let's face it, hospitality is all about people. And if that wasn't enough, they've got a serious commitment to sustainability, making sure their footprint is a light one.
The hotel's public areas and rooms are equipped with modern hotel solutions that makes it faster to order extra services and provides an opportunity for guests to leave feedback. Moreover, the Up Hotel also has a bistro and a bar, which has been waiting for both domestic and foreign guests with a revised concept since 2022.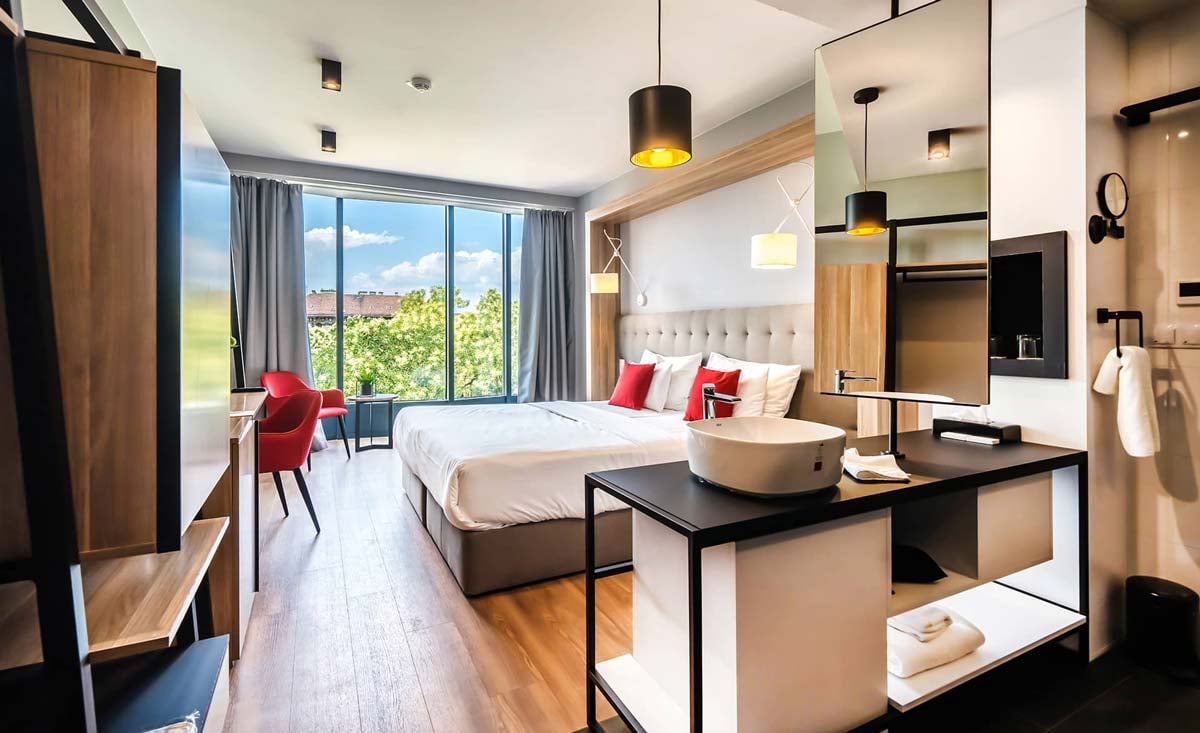 How does SabeeApp help automate hotel processes?
We're thrilled to see that more and more of our customers are leaning towards modern, automated solutions. With the help of SabeeApp PMS, administration can be reduced, freeing the staff and saving lots of time that can be spent on interacting with hotel guests and making sure they leave with a great experience. SabeeApp provides innovative solutions such as…
Automatic assignment of incoming reservations to available rooms
Dynamic price change depending on available room capacity
Personalised email and SMS templates ready to be sent
Automatic cancellation of unconfirmed bookings
Online check in and out via the Guestadvisor app
Effective guest communication
Ordering extra services like: minibar refill, massage, drinks or food
The status of the rooms can be monitored in real time through Housekeeping app
Using smartphones to open hotel door thanks to smart lock integrations
Excited to dive into the world of modern hotel solutions? If you want to learn more about how SabeeApp PMS can automate your everyday operation, book a free demo here.