In our previous articles we have talked a lot about the labor shortage experienced in the hospitality industry, and we have listed numerous tips, that can help you resolve this issue by staffing.
In our latest blog post we'd like to look at the topic from a different perspective. We try to help with some tips on how technology can help you to streamline processes in each department. Ultimately saving valuable time, so your staff can deal with their most important tasks.


First, we would like to emphasize that hospitality is a people business. Human touch is something that guests will look for when they stay at a hotel. The future of hotel management is blending the science of new smart tech with exceptional human provided customer care. There are already many tasks which are better done by a machine or even by the clients themselves. So you can streamline processes with technology but human interactions can never be fully replaced.
Without further ado, let's see how the future of hotel industry could be. How automation and artificial intelligence can help you with labor shortage?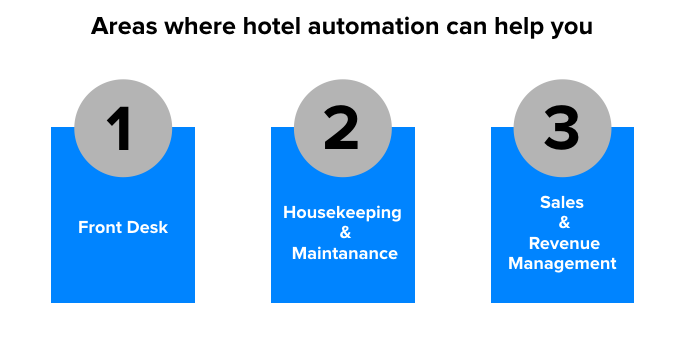 1. Front Desk
Guest Communication
An average receptionist spends between 20-30% of their day dealing with tasks which can be automated. The front desk depends mostly on a computer, so you can easily find tasks here, that can be lifted from their shoulders. They are the first who interact with guests, sometimes even before they arrive. Clear and timely communication is key when you build trust with your guests.
This kind of communication is usually revolves around very standard topics. You can easily automate the response to repetitive requests with a chatbot. Chatbots are already very relevant in customer service, and we think they will be a massive trend in the future's hotel industry. They can ensure a rapid, clear and flawless feedback on most standard questions leaving more time for your staff to deal with more specific issues.


We also recommend you to set up automatic communication templates in your hotel management system, so that you can get in touch with your guests at key moments in their guest journey. For example share important details about their stay before they arrive.


Create automatic followup messages during their stay to ensure

everything goes as planned.

You can prevent negative reviews in real time, improve your reputation and increase guest loyalty.


Finally, you can also use a feedback management platform, where you can see all the comments you received from different websites. This way you can make sure that no guest reviews were left unanswered. A platform like this can save you time, while giving you a competitive edge to boost your online reputation.
Automated services can hardly manage unpredictable issues. In this case, "a canned response" will not be enough, and your receptionist has to resolve it. If you automate your tasks, your staff will have more time to prepare for unforeseen events, then an appropriate action can be taken.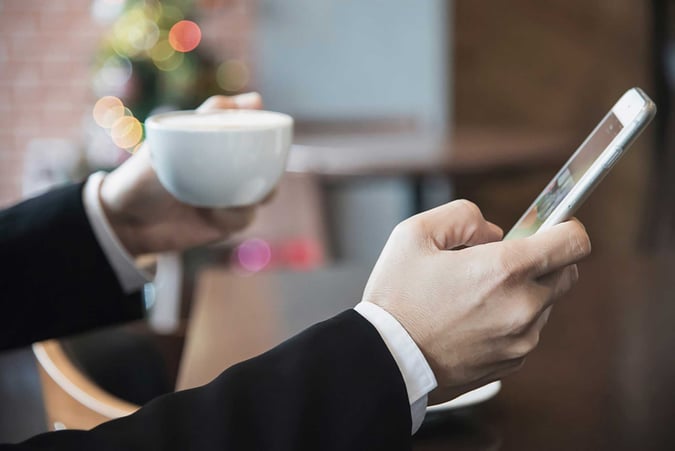 Managing Guest Requests
Most frequently a guest request is not taken care of because the information gets lost. If a guest wants to ask for something from a member of your staff, they often go to the first person they can talk to. This person is rarely the person who is responsible for the task.
Do you remember those times when communication between different departments was done through walkie - talkies rather than smart phones or maybe messaging apps? What do yo think about handling this information right through your PMS? This way your staff can see all the relevant information they need in real time:
Housekeeping can report the cleaning status of a room in real time to the reception or to their supervisor.


If during the cleaning they notice some damages, they can notify the maintenance team with just one click.


When something is mentioned at the reception by a guest, whether it is a request for a fluffy pillow, a bottle of champagne or a birthday cake, -the front desk team can immediately notify the person in charge.
With automation everyone can be informed in a standardised way, at the responsible department, without losing any information. All of this can be manageable with a well-integrated hotel system. We think this is on of the parts of future hotel technologies is worth investing in.
Administration
Think about all the paperwork your front desk team has to do on a daily basis. Depending on your property size, each department is spending an average 2-3 hours with administration everyday. How can you manage this more efficiently at different stages of the guest journey?
Check-in: With a system such as Guest Advisor Tool you can forget about waiting in long lines to check in. Instead, with a smart solution, your guest can already register themselves before their arrival, and all their data go directly to your PMS.

When their arrival day comes, they can check-in into their automatically pre - assigned rooms. Think further - with an integrated smart lock solution they can store their digital room keys on their smartphone. An automation like this can free up your front desk team, allowing them to provide an excellent service and

extraordinary experience

for your guests.


During they stay: With a smart concierge program your clients can communicate online with your staff. This allows them to make requests directly from their smart device, making their guest experience more seamless and quick. Help your staff by automating responses to these requests, so they will never be unhandled or forgotten in the future. It can also be an excellent platform to promote your other offerings.


Check-out: before they leave, you can ask for a confirmation message from your guests if the amount to be paid is correct. With an integrated payment processing solution, you can collect their payments with just a click. Going further, in case of OTA's virtual cards you can even set up automatic payment schedules, freeing up more time for your team, while eliminating the possibility of human error.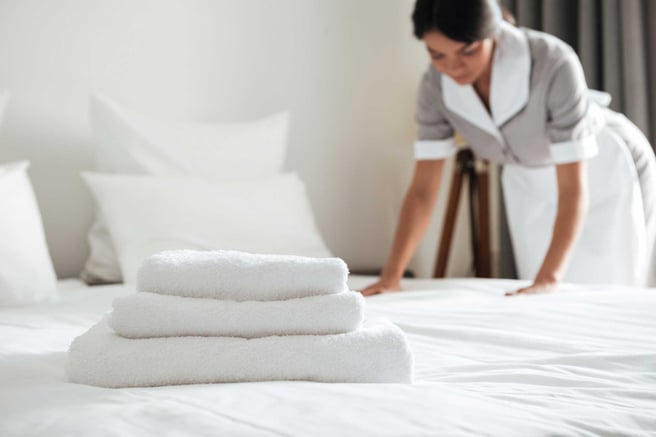 2. Housekeeping & Maintenance
Efficiency, productivity and higher quality
Tasks, Housekeeping department must perform on a daily basis:
Staff planning, room allocation and continuous staff supervision
Checking of room cleanliness
Management of the clean and dirty linen
Guests' requests
Stock control
Interdepartmental communication
Without the right tools this can take them 1-2 hours a day depending on your property size (in a 100 - room hotel it can take about 1.5 hours daily). Using digital solutions can save a lot of time, so they Housekeepers can focus on what matters the most: clean rooms. Time spent with room allocation can be also reduced from 30 minutes to about 10 minutes if you are using an application for this purpose.
With real time feedbacks and automatic reporting, you can solve cleanliness issues on the spot, and as we have detailed above, it is a very efficient tool in streamlining operations, increasing productivity and quality.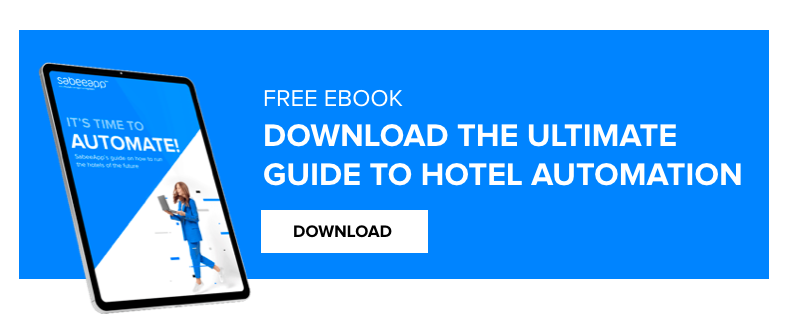 3. Sales and revenue
Pricing
When I was working as a revenue manager, analysing daily pickup, changing prices and checking competitors took a significant amount of time from my day. I was always wishing for automation in this field. When I see systems that can automate all these tasks, I feel that the future of revenue management is not that far.
A hotel revenue management software can be your reliable helper. Because it's using artificial intelligence, it can update your prices automatically. It can both track internal data (occupancy, booking window, free capacity) and external factors (demand, competitor prices, availability etc.). It can also analyze Big Data to create patterns of customer behaviour.
A machine never gets tired, it can track data and changes in your prices 24/7/365. AI can help you optimize your pricing strategy and to make data drive decisions in different ways. It doesn't mean that human factor is not needed anymore, but you can focus on solving issues, which a machine simply can't do (at the moment).
Sales
Although sales is strongly built on personal interactions, it doesn't mean that you cannot help the sales team's job with technology. This is especially true today, when personal meetings are less frequent, and online presentation is the preferred way of getting in touch. Even if this possibility is existing for a while now, only a few hoteliers adopted it yet.
Doing 360-degree virtual tours in your hotel is a pioneer way to show your future guests or your corporate buyers what can you offer to them. By providing this kind of safe and immersive way to showcase your services and atmosphere of your hotel, can distinguish you from the crowd.
Final

thoughts
Offering a wide range of services to your guests will always pay off, as they have various preferences. Providing them automated and smart hotel solutions can be an option.

Some of your guest will continue to choose only offline interactions, and to chat with the reception staff for hours, while other guests will instantly turn to their smartphones for help. As time flies, the future of hospitality will tend to guests who are more tech savvy, and building business based on their needs will worth to invest. Until then, we recommend to provide platforms to satisfy both types of guests.
In our next article we will explore how does a fully automated check-in system work, and what kind of hotel tech solutions can help you on the way.