Summer... When can be the better time to enjoy sun, sea and a good company?
However summer is almost over and it is a good time to look back and see what summer SabeeApp had this year.
At the beginning of July our team decided to gather together and combining work with holidays, to spend one amazing week in Adriatic sea. No, bragging is not the purpose of this blog post. It's quite opposite - I want to share with you moments of our trip, so you can see those people that work behind SabeeApp screen.
You will see the Heart of SabeeApp - Szabolcs, Brains of SabeeApp - development team, Ears and Voice of team - me - Egle. :) Unfortunately Zsolt and Reka couldn't join us this time.
We went to this Croatian Sailing trip so we could chill a bit, come up with new ideas and bring them for you. Imagine sunsets in the sea, sitting in the boat and sharing ideas about the future of Sabee. All this experience was the greatest team building I have ever been to!
So without further ado, let me introduce first of all to our beloved "head" of a team - Szabolcs, who was also the captain during our trip (as it suppose to be for a true leader) and his beautiful wife Ildi (muse have to travel together even on holidays!)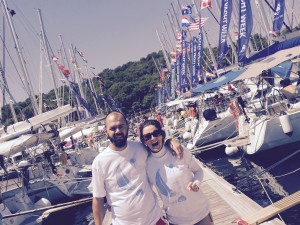 Our beautiful boat Ivana wouldn't be able to sale without development team guys. No, they didn't really need to re-program any computers in the boat, but they were very very helpful with all that rope pulling and rolling when it was a time to catch a wind. And how did they know when the good winds are coming? Simple - they were looking for it in the horizon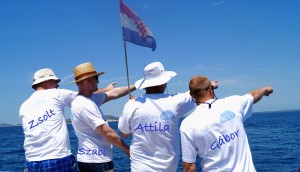 Here you can see two local birds sitting at the marina... Shhhh.... Don't scare them away until they are trying to get a suntan. I heard people calling them Attila and Gábor :)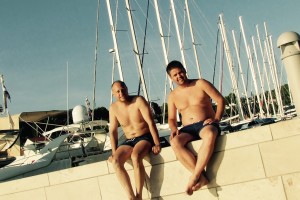 And this is me - your voice and ears of Sabee. Trying to hide myself from a very super unbearable hot Adriatic sun... No success - still got a wild suntan.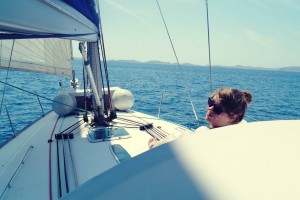 However, as mentioned above, not only the guys were pulling ropes but also they were pulled by ropes :) For a better understanding please see the picture (somehow I don't think it will be easy to understand without visual help)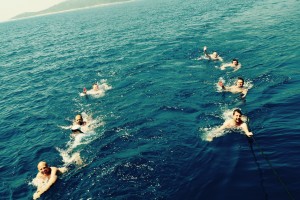 While we were being dragged in the water, for some reason I think we looked like a bite for a fish! Doesn't matter how it looked, but it raised the curiosity of couple of dolphins who came out to check what is causing all this noise and disturbing their sea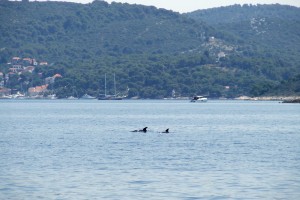 Our team getting the dinner at Maslinica island. Hey, psst, Balazs, look over here!!! Balazs is the guy sitting at the end of the table and probably finding something more attractive than making a selfie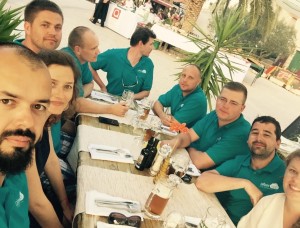 We needed someone to make a good shot. For a good shot, that someone had to be "transported" up to 15 meters high boat mast. Bravery or stupidity? I would say hot summer sun doing its' job... Operation "Paparazzi Aron" is on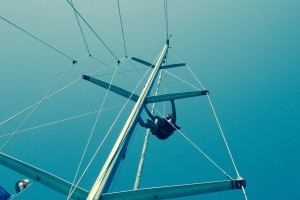 And here is the result....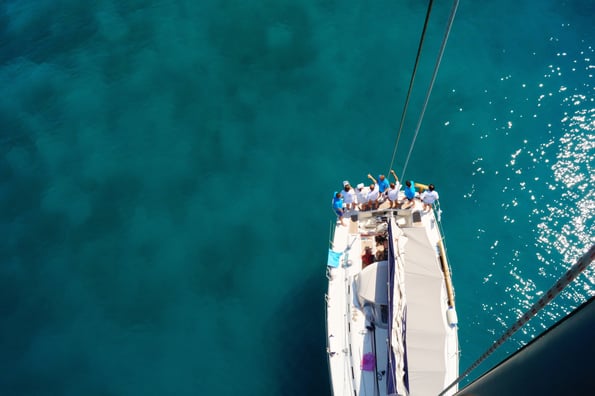 There are many more other beautiful experiences that we brought home from this trip. This was a wonderful way for us to gather together, share our thoughts and look at the future. We are looking forward for a new autumn season to start, because we have lot of new developments coming out this year and after we had a good rest, work will be going on few times better than before!
We are saying HELLO from whole SabeeApp team and hope you had the same amazing summer!