We decided to ask our customers to share their success story with the world. An inspirational story of one, can make an impact on many. So let's meet the first participant of this new and exciting series: 25 Hours Hostel in Vilnius, Lithuania. Interview with Linas Kulbokas.
Chapter 1: The beginning
What would you consider as the beginning of your business?
The very start of our business wasn't very easy and fluent. Basically it was a spontaneous decision not just to others, but also to us.
For the last 10 years my wife Asta was working as an engineer at a Swedish design company. However, due to the low profitability, company had to reduce the number of employees and Asta had to leave the job. She was heartbroken. It was hard to believe, that company, to which she gave so many years, is so focused on the profits and not to people working in it.
At that time, there were 3 school-age children growing at our home so it was very difficult to survive from only one person's income. We sat down together with Asta and started to think about own business possibilities. We checked a several different options, starting from beer brewing to even snail farming. But my wife thought that accommodation business is the most reasonable choice as we would be able to create something that can represent our second home.
"I must admit, I am a little bit fatalist, so I believe that everything in life has a hidden meaning. That's what happen in this case: events began to carry us forward as an invisible stream".
We believe, that the main success factor is the location for a hostel. And here, unexpectedly, the opportunity had landed on us from the sky. In Vilnius Old Town, near the bus station, previous hosting partners had the internal disagreement and the business stopped after 2 months. So their lodging was posted for rent.
For more than a year, 20-bed hostel was ran only by Asta alone: she was greeting guests, answering their questions, cleaning the rooms and etc. She ran everything from A to Z.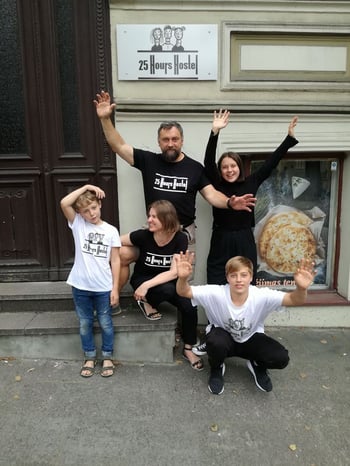 On weekends the whole family tried to help her as much as possible. Administration tasks were taken by me and older daughter and son, so Asta could have at least a bit of rest. Even our 8-year old son was grabbing the vacuum cleaner and tried to help the mommy.
The workload was huge on Asta, but we saw how happy she gets after receiving positive guest feedback and seeing increasing ratings on booking channels. Once we saw we've been rated among top 5 accommodation places in Vilnius, it gave us a new energy and power to move forward.
"In 2017 on Booking.com we became the best rated guest house in Lithuania".
Chapter 2: Implementation of the dream
What were the challenges ahead? Were you ready for them, or were you ever caught up in a surprise?
At the very beginning the rented place did not meet our expectations neither about the interior nor the amenities. Unfortunately, we were not able to make many changes. We were limited by the prices, offered by the interior design specialists and the indifference of the owners of the premises regarding the renovation. That's why we had to do everything with our hands.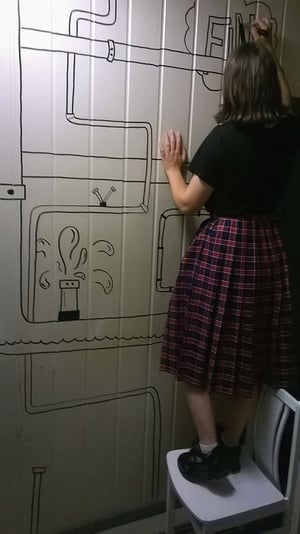 Everyone helped in a way they could: daughter Ugnė was decorating walls, painting the pictures. Son Domantas was making shelves and hanging the mirrors. We tried to create the environment that resembles home so even our guests could feel like home. And guests appreciated it. Of course, sometimes we receive negative reviews, but I guess, you can't match everybody's needs and expectations.
Do you still remember your first guest / reservation?
Oh, we remember our first guests very clearly. It was a couple from Belgium, staying at our place just for one night. They were very surprised to be just two of them in the whole building. And we were surprised that they were walking barefoot inside the hostel. Even though, we tried to create a homely and cozy environment, we still didn't expect guests to be barefoot 😀.
How everything started to grow? Did you start the advertising or it was enough just to appear online?
The beginning was tough because our new hostel still had the previous property's very low rating on Booking.com. It took several months of negotiation with Booking.com to register us with the new name and give us a new account. That's why we couldn't use one of the strongest sales platforms. For several months we worked only with Airbnb and received reservations through our website.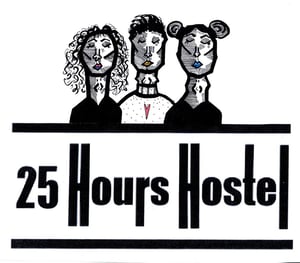 We still have a lot of unused reserves in the area of advertising, because we have done very little about it. On the building, where we're located, we have just hanged a small flag and a small signboard with the logo of our hostel, drawn by our daughter. We thought it will be just a temporary logo, but it remained until this day.
Some guests are encouraging us to come up with more visible advertisement, but other guests are saying that modesty really fits here and that was what caught their eye. They were intrigued to step inside and check what's hiding behind this minimalism.
"...we can say that we did everything by ourselves from the very beginning: room design, logo and etc. And if our guests like it, then it's the best evaluation for us".
When Booking.com finally agreed to open a new account for us and clear the previous property ratings, then we started to experience the increased number of guests.
Have you received negative reviews that made you doubt about your business? If yes, how did you

withstand it and move forward?
We pay a very close attention to our guests' reviews and most important to the negative ones. We believe that that's the only way to see the negative side of our business and then we can work on improving it. Sometimes we receive anonymous abusive or unmotivated feedback with the clear intention to hurt us personally. We're just glad, that there were not too many such feedbacks and we can focus on the constructive critique.
Chapter 3: Your present
Do you think your business can be called as an exceptional? Why so?
No, we don't think it's something exceptional. Our hostel is an ordinary tourist hostel set up in a former Soviet court, which is quite difficult to adjust for accommodation needs. The only exception is just that we've put a piece of heart in it.
When you look back now, do you think you did the impossible?
In the beginning, we did everything as we saw fit and how we thought it's right. Only a year later, when I look back, I think my wife Asta has put so much effort, time, love, and experience into this business that she would not dare to repeat it for the second time.
Both of us are especially grateful to our friends Audra and Giedrius, who had the same business experience, and shared their secrets to the smallest details. They've been watching since the beginning of our road and were happy even for the smallest achievements.
What do you think is the biggest achievement in your business?
The biggest happiness for us is when guests, who already been staying with us, come back again. With some guests we became very good friends and this is the best evaluation for us.
What would you like to say to those, who are still dreaming about opening their own accommodation business?
In my opinion, we have waited a bit too long to try the challenges and joys of a personal business. You have to devote 100% to your business. The whole family gets united in the common activity.
Therefore, we wish you that if you feel that you have found your desired activity and it's carrying you like a river, do not hesitate to go with the flow and you will not regret it.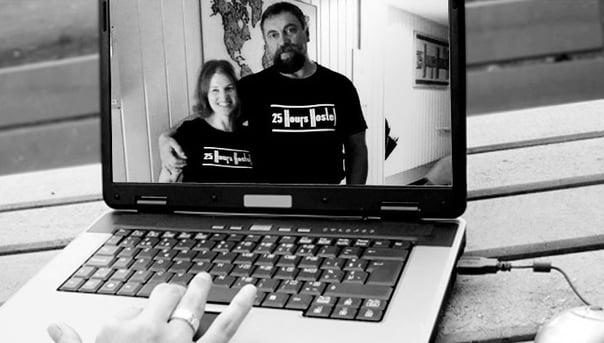 Asta and Linas