Together with the booming social media comes the new ways of marketing, sales, and business strategies in general. Companies are basically pushed in the sea of the online presence. Some business would be satisfied just by having a website that works. However, this does not apply for the hospitality business. Guests are choosing holiday destinations based on pictures, reviews, and overall emotion. Booking window has changed a lot. People used to plan their holidays and book accommodation months before the trip. Now accommodation and trip adjustments can be made a few days before or even on the same day. Meaning that any kind of accommodation must be active and accessible online. They must be "alive" almost in every social media platform and let the world know about their existence.

Why Social Media became so important?
People like to share their experiences. Platforms like Facebook, Instagram or Pinterest became a perfect tool for sharing holiday pictures, telling friends about that nice hotel you stayed, or expressing your disappointment with food at the restaurant. Research shows, that 76% of travelers use social media to share their holiday experience. Slowly businesses saw an option to use this information for advertising purposes. Companies started to create profiles, add followers, create content, engage with followers and by doing this - simply advertise.
Hotel guests are the perfect target of Social media marketing. They are looking for the visual emotion. Nice picture gallery and active interaction can guarantee more guests driven by what they saw in social media. However, social media can also be harmful if it's being handled poorly. Bad reviews, compromising pictures about the hotel room and other negative posts on the social media profile of the hotel, can make a serious harm. So as it is a blessing, social media can also be a curse.
How to deal with Social Media?
There are several rules or guidelines, that you should follow when posting on your business profile.
😀 Have in mind, that your social media marketing strategy also should be targeted to your current guests. Not only new ones. Therefore you have to know your guests! If your existing guests will become your followers, then you can be sure, that they will book with you again. And when they book again, they should book directly, even via Facebook, when possible. Direct sales = no commission!
🏞Use high quality pictures when sharing information on Social media (especially Instagram or Pinterest). Professional pictures should be used not just at your website but also in other platforms which can act as a potential sales channel.
#️⃣ Use hashtags to promote events, happening in the area around the hotel. There are many travelers that are conducting a search using hashtags. Having posted something interesting and useful, can actually attract people to your website and convert to an actual guest.
👍🏻 Encourage your guests share their experiences about your place. For example, you can announce guest photography competition on your social media. Guests should post their best experiences tagging your place and using hashtags. You can promise some prize for the best photo (e.g. the one which collects most likes). In this way, your establishment will blossom not only on your SM pages but on your guest's walls as well.
👩🏼‍💼👨🏼‍💼 Feel free to invite influencer personas to stay at your hotel. In exchange for a couple of free nights at your place, they will make sure to spread the word about your establishment. Meaning, that all their followers will get to know about you - marketing at its' best!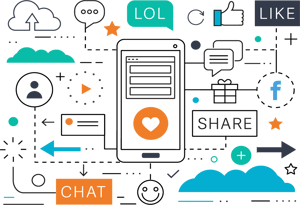 🎥 Do you have any event going on at your hotel? Why not stream it live? Cooking competition, dog show, marketing course... anything can be streamed live and could guarantee a certain audience.
🤔 Be creative. Create various promotions that would encourage your SM visitors to check your page or even make a reservation. Typical "like, share and tag your friend" strategy will be perfect when someone is trying to win a free weekend stay at your place.
✍🏻 Write a blog. There must be many interesting things happening around your hotel, that people would like to know about. Writing a blog is also one of the best ways to work on SEO by adding certain keywords, that will help you to appear in the better position at the search results. People might be interested to read about activities in the city before they even book the hotel. A well-written blog post will catch their attention and they will be curious to check your website. Be prepared for that! Make sure that your website is able to convert visitors to actual guests.
If you are not sure where to start or how to create your social media marketing strategy, you can seek help from the professionals. There are many companies that can consult you on this topic and help you to prepare for the first steps. It will cost extra, but ROI will be worth it!
Don't's when posting on social media
It's better to know what you are doing or how to do it, rather than pay for adds which are not targeting to the right audience or posting random things on your social media. Which actually can drive your potential guests away. There are several things, which you should avoid when dealing with social media:
❌ Be consistent when posting. People will learn your "post rhythm" and will expect content from you on certain timing.
❌ Don't go too crazy and don't "over-post". People will take it as spamming and will unfollow or unlike your page.
❌ Make posts for a broad audience. Post not only about your hotel but also about the happenings in the city, market-related things, holiday trends and etc. People will find your content interesting and will start to follow you or even pay a visit.
❌ Try to stay away from political or religious content.
❌ Don't despise your competitors on social media. It can turn back at you in a very negative way.