Lately, people are more conscious about the climate. Various companies initiating green projects and encouraging people to put efforts in saving the Planet. Tourism industry is also shaping new habits of guests and hospitality businesses. Hotel sustainability became a part of business strategy. Especially now, when 2017 was announced by UN as International Year of Sustainable Tourism Development.
What does it mean to be a sustainable hotel?
Hotel sustainability is not only about going green and saving the Planet. It's focusing on overall good. In order for the hotel to be sustainable, there are several points to take care.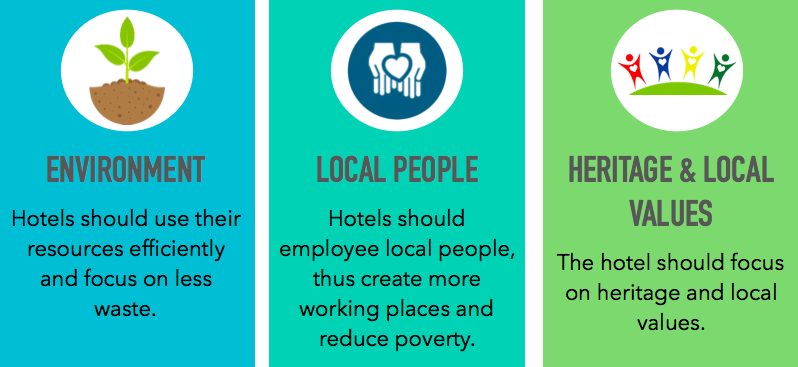 In general, hotels should promote a common understanding of local life. Together with this, comes peace and security in the area, where business is being run. People will feel the benefits of sustainable economic growth and therefore, will play their part in making the world better :)
"Going green" or "being sustainable" is also becoming a matter of fashion. People want to be "green". They think it's cool to be eco-friendly and would like to be part of this lifestyle. However, many times, sustainable services or products cost more than usual ones. And people expect to get better service/product for the lower or same price as usual.
People might think, that eco-friendly hotel means lower service. I've heard people wondering if they will have hot water in the room. Or if their shower time won't be limited. This just shows misconception about something, what's still relevantly new. That's why the hotel staff should be included in the guests' education process. They should share with guests hotel's values and points of view. Tell how guests can contribute to hotel sustainability.
What can you do in order to become a sustainable hotel
There are many different activities that you can follow to gain a sustainable hotel's name. These are just a few examples, maybe you can pick some and implement in your hotel:
🌱 Support local sources (such as wood)
🌱 Use LED bulbs and install sensor based lights at the common hotel areas
🌱 Hire locals. No need to say, that this will reduce local unemployment rates
🌱 If your hotel is near the forest - promote reforestation. Hotel Punta Islita, (Puerto Rico), gives a great example of how a hotel can exist in harmony with nature
🌱 If your hotel is at the seaside, you might consider getting the "Eco Pure" system. It purifies seawater and makes it to drinking water
🌱 Recycle glass bottles and reduce or stop consumption of plastic bottles
🌱 Solar panel roof is another very popular solution. It can power the AC in hot places and serve as a great heating source in the cold season. Heating, powered with solar panels = low carbon imprints!
🌱 Have an organic garden. It can be a smaller one for herbs, or much larger which can produce vegetables for your hotel's kitchen. A big garden requires care, meaning that you generating work for local people
🌱 You should use eco-friendly cleaning products at your hotel
🌱 If possible, stop using packaged toiletries. Refillable shampoo or shower gel containers will be much "healthier" for the environment
🌱 Offer bicycles for your guests as an alternative transportation option
🌱 Use rainwater for garden or plant watering
🌱 Recycle used toiletries by giving them to the communities in need
🌱 Use PMS. By having all data in the system, you save paper, as you don't need to print calendars, housekeeping tasks, and even check-in forms. Guests can do the checking online so no more paper wasting
🌱 Join LEED (Leadership in Energy and Environmental Design) certification programme. It is focused on the green building rating system
🌱 Join Green Leaders Badge programme in TripAdvisor, and let everyone know that you care about environment

To sum up
Every individual and every company should be seeking to reduce its carbon footprint. People should be educated and informed about what is happening with our Planet. Hospitality industry can contribute to this matter in a very large amount. It's a service-based business, meaning that hotels constantly have guests. So they have people that need to be educated. Education can happen by presenting your hotel's values and explaining why you working towards certain goals. People slowly will take over this nice initiative and will look for ways, how they can contribute. Most important - be transparent. Explain that prices at your hotel are higher, because you are using eco-friendly cleaning products or because vegetables are grown in the hotel's garden. People will not mind paying more if they will know that their money is going towards a noble goal.