SabeeApp
VACATION RENTAL
SOFTWARE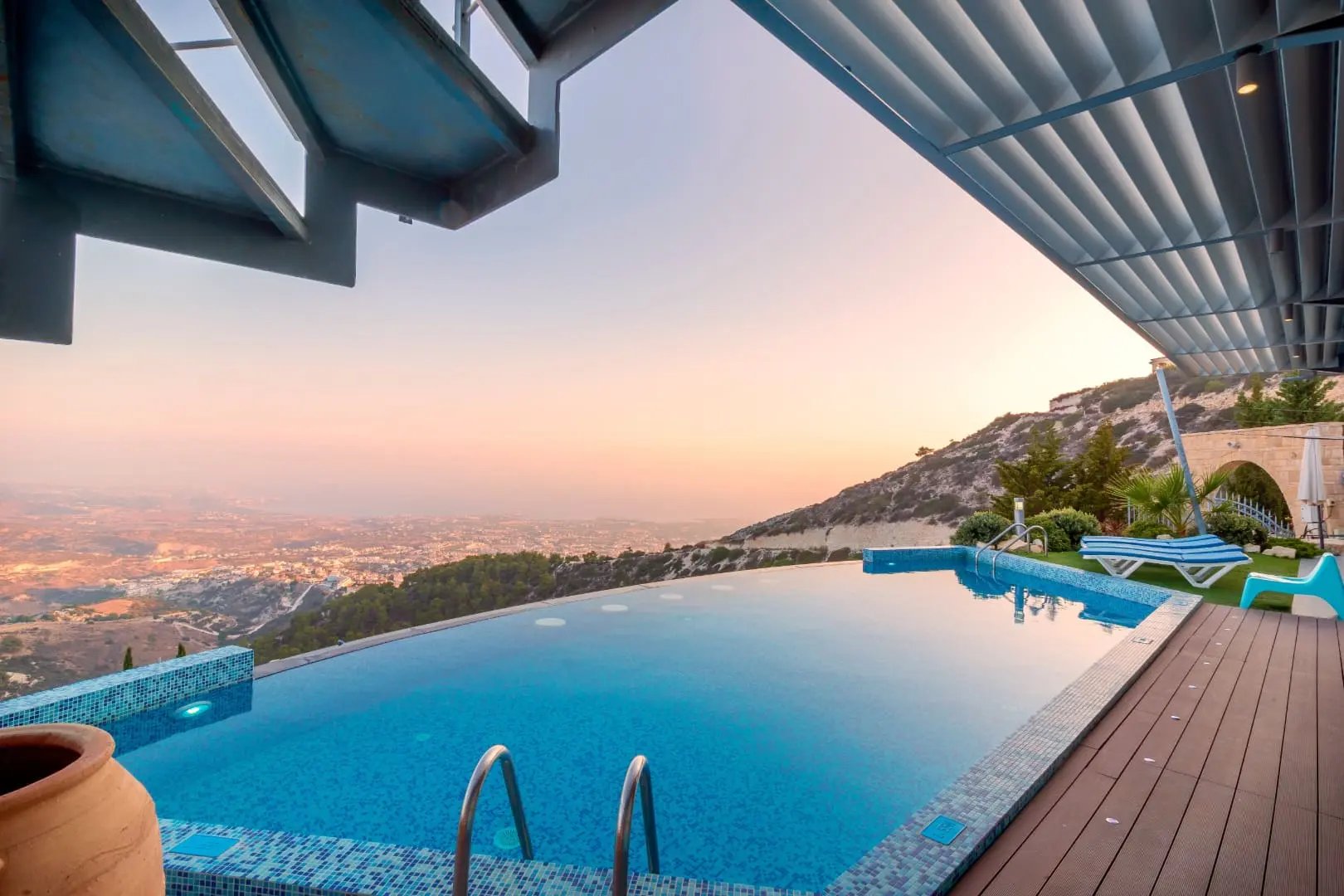 Stay ahead of your competitors by using the most innovative vacation rental software on the market! Whether you own a hotel, hostel or apartment, SabeeApp's solution will help automatize you in your day-to-day tasks. With SabeeApp, you can revolutionize your operations, streamline your management processes, and enhance the overall guest experience. Moreover, SabeeApp incudes the following tools:
Front-Desk System PMS
Manage your daily administrative tasks conveniently from one place. Reservations, invoices, guest communication, housekeeping and reporting all available from one Hospitality Software.
Whether a reservation arrives through one of your partners, or your Internet Booking Engine, it will automatically appear in your cloud PMS, thanks to our built-in hotel Channel manager.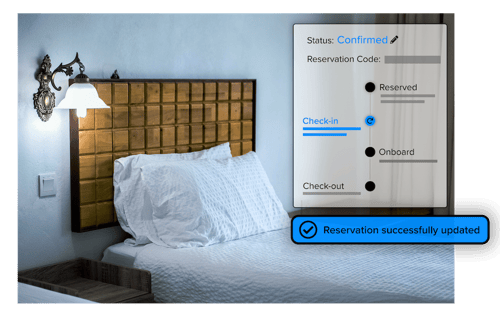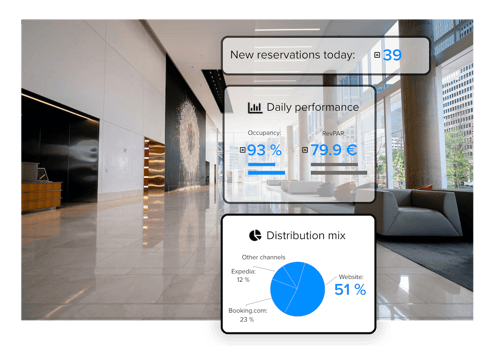 Channel Manager that push your hotel forward
Up-to-date rates, availability and restrictions across all your connected OTAs. Automated, no more over-bookings. We know that the speed of data synchronisation is crucial factor. The SabeeApp Hospitality Software synchronises data in real-time, and updates all sales channels instantly.
Internet Booking Engine
A Booking Engine is an online hotel booking system that can be inserted on your website. Potential guests who visit your page can easily make a reservation on the spot, without being redirected to any other sales platforms.
Boost your direct sales by allowing visitors to make commission-free reservations on your website.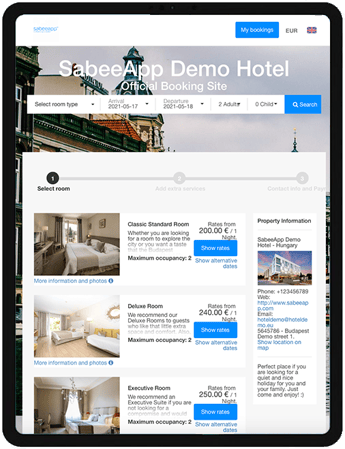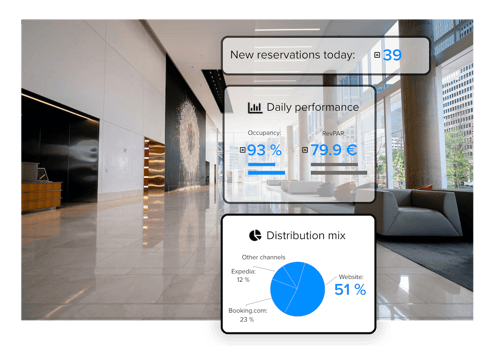 Smart Solutions addons.
Developed to simplify processes, ease the work of hotel employees and increase guest satisfaction.
SabeePay payment gateway
Involve your guests and guarantee all reservations with a successful payment. Charge virtual credit cards in bulk.
SabeePay payments are quick, easy and integrated into SabeeApp PMS. Real-time payments are also enabled on your Hotel Booking Engine. When your future guests make a reservation, they can pay the accommodation charges easily and reliably, along with all other reservation-related fees, such as taxes and extra services.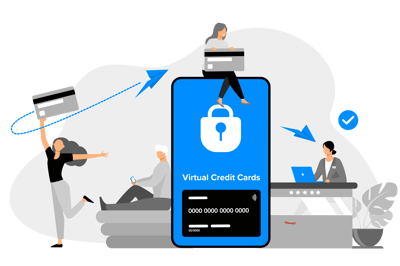 Perfect for Hotels of any size
We provide a wide range of hotel solutions which makes your day-to-day operation easier. You can efficiently make data-driven and conscious sales decisions with SabeeApp. Streamline your hotel operations into an outstanding guest experience! High value Solutions for Apartment Rentals
SabeeApp enables you to centralize and automate many of your everyday activities. Using an apartment management app, you can easily deal with issues such as rent collection and payments, additional services, and inventory management.
Seamless Hostel Management
It's difficult to handle bookings in large, multi-bed rooms. The SabeeApp hostel software can help you step back and see the larger picture. Connect with the biggest sales channels, manage bookings easily and make your hostel's revenue sky rocket!
Automate your vacation rental business with SabeeApp's solutions
Even if you're just getting started or have been in the business a while, SabeeApp's vacation rental management software has everything you need to manage your bookings, satisfy your guests, as well as to increase your occupancy and income, .
Revenue Management Integrations
SabeeApp helps you to make data-driven and conscious sales decisions
Built-in Invoicing system
Issue electronic invoices, prepayments and pro forma invoices directly from the reservation page. Switch easily between currencies, guest - and company details.
Accounting Software Connection
SabeeApp is integrated with multiple accounting softwares. Choose by your preferences and provide access for your accounting team to download invoices directly from SabeeApp.
Dynamic Pricing Integration
Set pricing rules to update prices automatically as your room availability changes. You can integrate with different 3rd party tools as well.
Built-in Management Reports
Be the master of financials in your hotel with detailed payment, sales and performance reports.
Unified Inbox
You can reach your Airbnb guests from a single platform. Faster response time, easier communication.
Take a step towards Hotel Automation.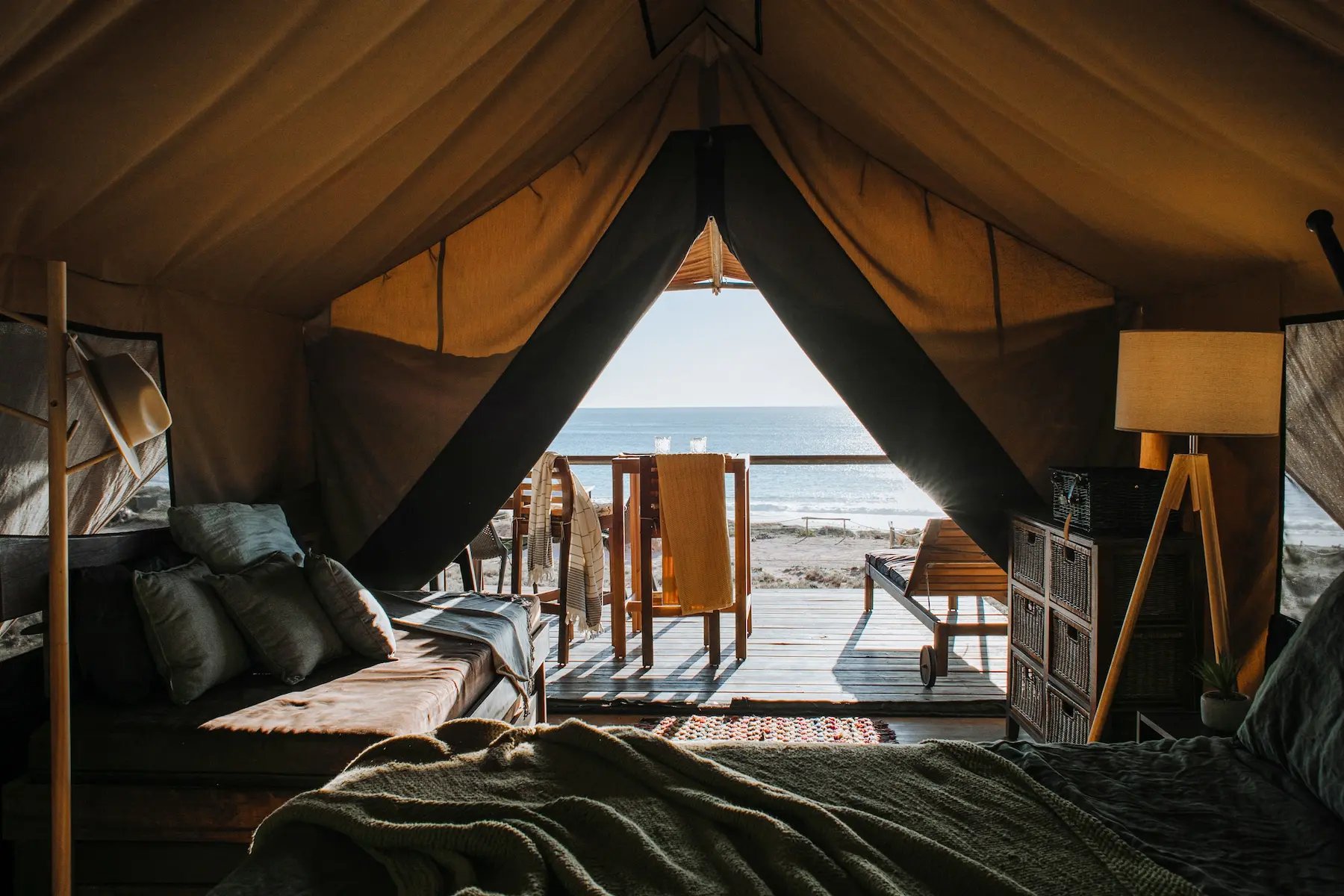 Empowering hoteliers worldwide
"There is nothing I do not like about SabeeApp, it is so easy to use. It does not require much training for my staff, and it works very effectively with all the channels that we work with."

"Best PMS on the market, with minor additions, it is the best choice for small/ medium properties. Easy to use and intuitive, rich features. All you need in one place."

"The value for money is great, customer service is very responsive, and they answer all our questions without delay. The channel manager works very well. We tried two other PMS that did not suit our needs. We highly recommend SabeeApp."

"I tested a lot of PMS systems, but SabeeApp was the only one with full functionality on a mobile device. Also, the user-friendly platform and the customised setup for our staff is a big pro."
Cultivating Success: How Vacation Rental Software Revolutionizes Operations and Boosts Profitability in Your Hotel Business
First and foremost, vacation rental software simplifies and automates numerous administrative tasks, saving valuable time and effort. Property owners and managers can effortlessly handle bookings, reservations, and availability management through a centralized system. This eliminates the need for manual tracking and reduces the risk of double bookings, ensuring smooth operations and preventing potential customer dissatisfaction.
Maximize reach without the threat of overbooking
Of course, property owners want to be present on different OTAs in order to reach the most amount of people. Even though this is a great strategy to maximize bookings, it requires extra attention to avoid overbookings. A good vacation rental software, like SabeeApp, is a great help in this as well. It has built in Channel manager which automatically updates availability, thus shows real time data on different OTAs. Like that, there's no chance for overbooking.
Communicate effectively with your guests
Apart from that such software should provide robust communication tools. With built-in messaging systems, property owners can easily communicate with guests, addressing their inquiries, requests, or concerns promptly. SabeeApp does this via its Guest Advisor tool. This streamlined communication not only enhances guest satisfaction but also helps build strong relationships, encouraging repeat bookings and positive reviews.
Maximize guest experience with a variety of added features
Not only communication, but other aspects also play an important role in maximising guest experience. Online check-in/out, keyless entry systems are just a few examples that SabeeApp has to offer. These features not only improve convenience for guests but also contribute to operational efficiency and cost savings by reducing manual labor and administrative tasks.
Track your success effectively
Furthermore, these software solutions often include advanced reporting and analytics features. Property owners can access comprehensive data on bookings, revenue, occupancy rates, and guest feedback. Such insights enable them to make informed decisions, optimize pricing strategies, identify popular amenities, and tailor marketing efforts to target specific customer segments. By leveraging this valuable information, property owners can maximize their revenue potential and stay ahead of the competition.

Unlock more potential with the SabeeApp Vacation Rental Software